Overview
A heel spur is a hook of bone that can form on the heel bone of the foot. Heel spurs are associated with plantar fasciitis. Heel spurs can cause extreme pain in the rearfoot. The pain is most intense while standing or walking. What Causes Heel Spurs? Heel spurs develop as an abnormal growth in the heel bone due to calcium deposits that form when the plantar fascia stretches and pulls away from the heel. The plantar fascia is a ligament located at the bottom of your foot. This stretching of the plantar fascia is usually the result of
flat
feet or unusually high arches.
Causes
Heel Spurs develop when the plantar fascia is excessively and repetitively pulled away from the heel bone. In many cases, a heel spur can develop along with plantar fasciitis, but can also occur by itself. Heel spurs often develop in middle-aged patients, but can also occur in younger people as well. Athletes are especially prone to heel spur due to the regular stress on their heels.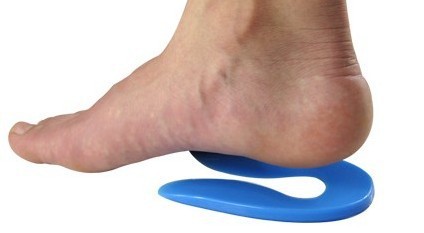 Symptoms
You may or may not experience any symptoms with your heel spurs. It is normally the irritation and inflammation felt in the tissues around your heel spur that cause discomfort. Heel pain is one of the first things you may notice, especially when pushing off the ball of your foot (stretches the plantar fascia). The pain can get worse over time and tends to be stronger in the morning, subsiding throughout the day; although it does return with increased activity. A
sharp
, poking pain in your heel that feels like you're stepping on a stone can often be felt while standing or walking. You will sometimes be able to feel a bump on the bottom of your heel, and occasionally bruising may appear.
Diagnosis
A heel spur is often seen on
X-ray
as a
bony
protrusion, which can vary in size. However, because a Heel Spur only indicates increased load on the plantar fascia, and not pain, an ultra sound may be required to assess other actual cause of the heel pain such and may include checking to see if the plantar fascia is inflamed or degenerated.
Non Surgical Treatment
In many cases treatment is non-surgical and can relieve pain, but may take from three months to a year to fully recover. Performing stretching exercises to help relax the tissues in the heel as well as rest, icing, and over-the-counter anti-inflammatory or prescription medications can help ease symptoms. Customized orthotics or shoe inserts to position and cushion your heel can help.
Surgical Treatment
Surgery is used a very small percentage of the time. It is usually considered after trying non-surgical treatments for at least a year. Plantar fascia release surgery is use to relax the plantar fascia. This surgery is commonly paired with tarsal tunnel release surgery. Surgery is successful for the majority of people.
Prevention
Choose new shoes that are the right size. Have your foot measured when you go to the shoe store instead of taking a guess about the size. Also, try on shoes at the end of the day or after a workout, when your feet are at their largest. To ensure a good fit, wear the same type of socks or nylons that you would normally wear with the type of shoe that you are trying on.